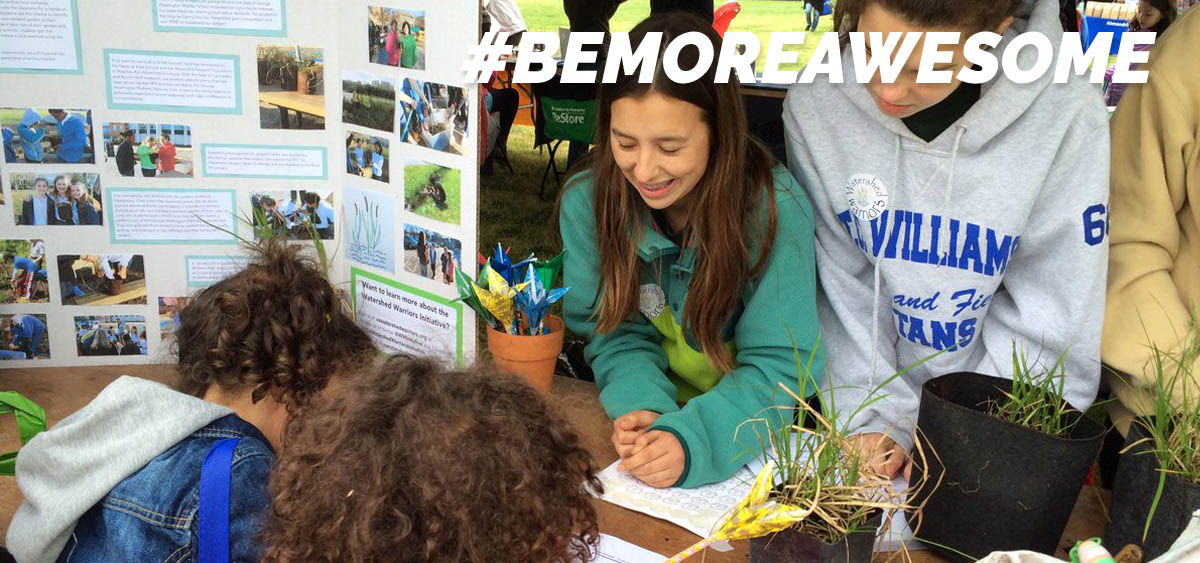 ANA HUMPHREY
WATERSHED WARRIORS
"Given the tools and experience, students of all ages can be ecosystem stewards and teachers in their community."
"We were wet. We were muddy. We were tired. And we couldn't be happier," Ana remembers the field trip that completed the wetlands restoration project that her group had dreamed up half a year earlier in Life Science class.
Through a buzy winter and spring, they had emailed organizations, invited guest speakers, created a website and social media, scored a grant, and covered everything a 7th grade science student in Virginia was supposed to know.
Here they were, after hours of trudging through foot deep mud, shovels and long wooden stakes on their shoulders, wet brown shorts betraying the students who'd been swallowed deeper than by ankles and shins.
Scores of matured bulrushes they had grown and cared for would now improve the stream's water quality.
Celebrating with National Park staff, they didn't feel at all like quitting. Instead, they would step it up and provide the Watershed Warriors experience for 5th grade students across the county.
Imagine these seasoned 7th graders sitting together designing a lesson plan along state science standards – for a fun, immersive wetland restoration adventure, with 4 visits a year, research, action, a field trip – with a focus on high-poverty and ethnically diverse schools!
3 years later, they have engaged over 280 children in the program. Ana knows it has far-reaching impact.
"Each time I pass Roaches Run, I point out what we've planted to whoever I'm with. I know all our students do, too."
UNITED NATIONS Theme + Action Days
ADORA SVITAK "Intellectual royalty" - Salon Magazine "It is time that adults learn from kids: bold ideas, wild creativity, and optimism." FOR "Once upon a time" a little girl sat crying, unhappy with herself, as her older sister seemed to excel in...