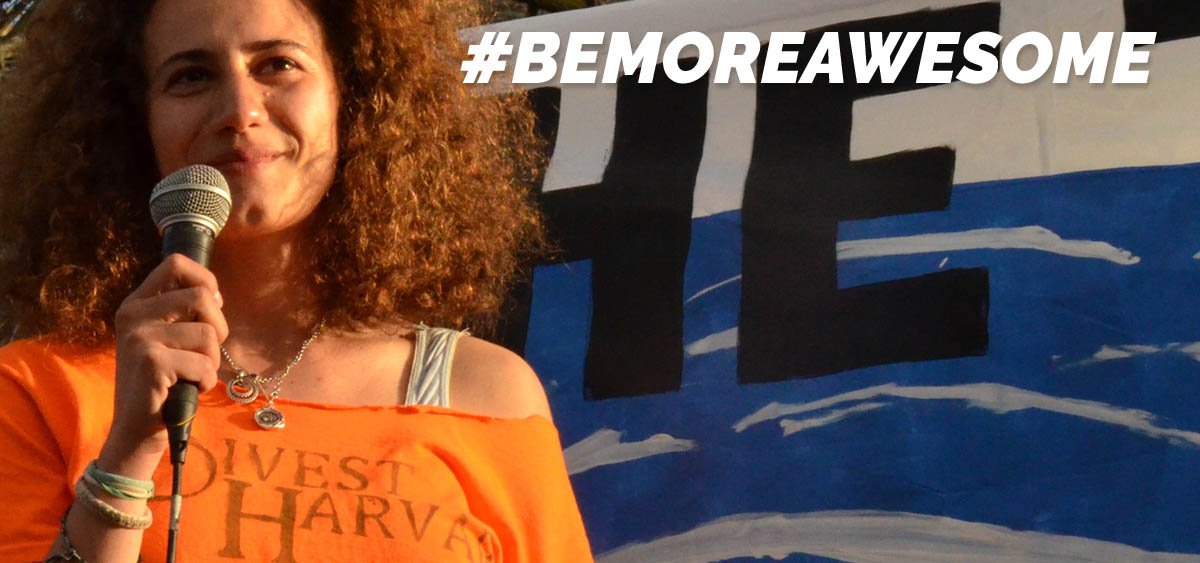 CHLOE MAXMIN
FIRST HERE THEN EVERYWHERE
"Our generation will be defined by our steps to mitigate climate change."
Chloe Maxmin spent her youth on farms and forests of Maine.
When the country's largest real estate developer, Plum Creek, moved in to build marinas, house lots, a golf course and helipads, Chloe stood up in defense. She testified at public hearings, wrote for local papers and started a Climate Action Club.
The tiny student club galvanized a movement in the community and sparked a whole lot of innovations in town, state and nation
no idling policy on campus
battery recycling at school and in town
energy audit, switch off school computers over week-ends
intergenerational task force from elementary schools to senior homes
reusable bag campaign (state's biggest)
solar panels on school (first in the USA done by students)
starred in the Sundance series "Big Ideas For A Small Planet."
Next, at Harvard University, and inspired by the role of divestment in ending "apartheid", Chloe asks the university to "divest" its $30 billion endowment from dirty energy. Her tiny group quickly gained support of seventy thousand including professors and famous alumni, and became the icon of a national movement spreading to 300 colleges, and then intern/nationally.
Chloe's razorsharp words shaming dirty industry – "they destroy everything we love" – brought her to the frontpage of the New York Times newspaper and popular talkshows.
Around the planet, state funds, cities, companies, churches, foundations divested more than 6,000 billion dollars from dirty fuels. Major projects got halted. But the struggle has only begun. Join in! Divest!
Running for office
oldest county (by voter age) of the USA
got a bunch of young people together all excited – glowy for Chloe – music, artists to handpaint beautiful signs – primary, knocked on 10,000 doors, won 80% of the vote.
District 88 is only 27% Democrat, one cannot win on Democrat votes alone. So, Chloe started talking to Republicans and Independents using the MiniVAN canvassing tool (view VECAN speech)
RESOURCE TITLE
Your content goes here.
UNITED NATIONS Theme + Action Days
Your content goes here.
ADORA SVITAK "Intellectual royalty" - Salon Magazine "It is time that adults learn from kids: bold ideas, wild creativity, and optimism." FOR "Once upon a time" a little girl sat crying, unhappy with herself, as her older sister seemed to excel in...