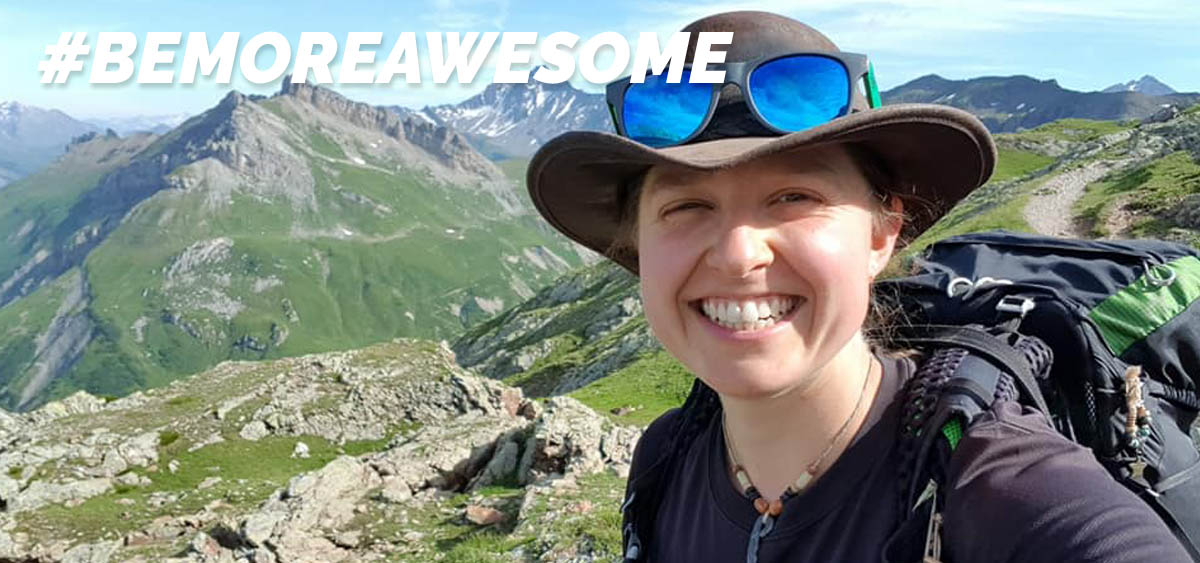 ABBIE BARNES
SONGTHRUSH PRODUCTIONS
"We need info on our planet, wildlife and conservation with a youthful perspective."
During a childhood crammed full of mountain treks, den building, canoeing and animals of all shapes and sizes, Abbie developed a deep appreciation for the natural world.
At age 13, when learning about the threats our planet faces, she vowed to do everything in her power to protect it. Next Christmas, she found herself with a magic wand: a film camera!
Abbie began filming local wildlife, and at 15, had produced her first award-winning short film on protecting our ocean wildlife from plastic trash! Films on nature, sustainability and historic hiking trails followed.
School completed, she took off to climb Africa's Mt. Kilimanjaro, film a scientific expedition documenting the grave impacts of climate change on land ice, wildlife and farmers. Wow!
After a training in bushcraft, she set out to live her passion – forewent university – and launched a youtube channel documenting her journeys  crisscrossing Britain's hiking trails, tips and tricks for hikers, with occasional trips to greater challenges. Check out her epic Mont Blanc adventure documentary ALIVE!
We can all be part by co-producing (funding) her films and by following her example!
ABBIE'S SELF-LEARNING JOURNEY a few years on
Abbie enrolled for university but her spirit said no to doing that. She simply broke down. Instead, she could only do one thing – follow her heart, her passion, and leading a life with purpose, rightaway. 
Just a few years later, here is what she has learned, the skills she has aquired step by step, the character and person she has evolved to, what she does, what she offers:  
"Alongside media production, I work in the leisure industry as a wellness coach and personal trainer, training clients on a 1-1 and small group basis. I am also a class instructor, teaching Boxercise, Group Cycle and Circuits, and a run leader, coaching beginner running courses.
I am a qualified Hill and Moorland Leader, offering group walks and talks in the wilder areas of the UK for those looking to head outside for the first time. Please visit the 'WILD Walks and Weekend Events' page to find out more, or get in touch via email to arrange a walk.
I have completed my Expedition Skills Module and have my Mountain Leader (Summer) assessment due in 2020. I am also a qualified Outdoor First Aider and Mental Health First Aider.
I offer talks and presentations across the country exploring mental health and wellbeing and the ways in which we can all take steps to support ourselves and those around us.
I am a qualified PADI Open Water Diver, an experienced bushcraft instructor,  and am studying for two diplomas, one in Nutritional Therapy and the other in Life Coaching.
I am an enthusiastic long-distance backpacker, traditional archer, trail runner, musician, dog lover, and more. I am also a journeying Christian passionate about discovering my true value in Christ and cherish spending time with my church family."
– – 
So, folks, if you don't feel excited, or even horrified by the conventional linear paths of education laid out by ordinary, boring people, corporations, ministries and machines … know that there are other ways to pursue life, to "make a living" or rather "live one's living" … and we at YOUTH-LEADER are your family, can chat, offer learning spaces and more. 
RESOURCE TITLE
Your content goes here.
UNITED NATIONS Theme + Action Days
Your content goes here.
ADORA SVITAK "Intellectual royalty" - Salon Magazine "It is time that adults learn from kids: bold ideas, wild creativity, and optimism." FOR "Once upon a time" a little girl sat crying, unhappy with herself, as her older sister seemed to excel in...