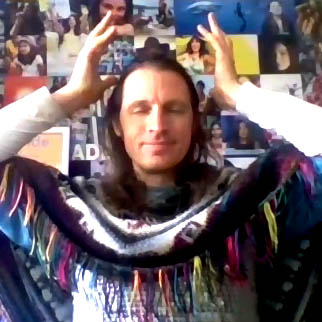 Kick FEAR down the loo, crown yourself and activate your majestic skills and powers to create peace, joy and abundance in and around yourself
from the comfort of your home 🙂
Do you miss to run free in nature?
Wait … could you actually learn a good deal more about nature?
Here is people that know nature say about this time on Earth.
Will we come out of quarantine as morons like before? Or worse, as android slaves caged into boxes forever, while drones and police bots control the air, and peace and prosperity fall into pieces?
If that makes your hair rise and heart beat, crown yourself and come out as hero*ine and wield humanity's finest solutions to protect and evolve a world of GOOD. 
It's surprisingly simple and super fun. Let's go.
HIGH TIME
to use our amazing tech to learn with today's Einsteins, Gandalfs and Gryffindores
online @ home to #bemoreawesome and score real world certificates 
Humanity's immune system awakens!
unless we numb it with gaming and Netflix, lol. So don't.
If you feel bored or anxious, don't be a moron minion but come fully alive! The coronation experience paves your path into an exciting life once you can roam free again – fully unleashed. Yay!
The temporary stay-at-home experience reminds us of what truly matters to us in life + to protect the people, land and ways of living we love.
Also, it creates
a climate of care and collaboration among larger parts of the population
attention and appreciation of coaches and changemakers
awareness of gross incompetence of the outdated models of economy, governance, worldview, values, education, media, medicine, nutrition – and how we got used to treat the poor, the elderly, to un-dignify nurses, doctors and community mobilizers.
We all have experienced how from one day to another celebrity cult has become irrelevant nonsense. So are make up tips, dirty, violent hip hop and watching others move balls through hoops and posts. How much time, attention, and good feeling about oneself did all that steal and eat up? Do you wish to go back to that? To re-create it once you are let out into school and town again?
Looking at "poor" counties and countries, we notice that the #1 priority in life is food + health + natural land + decent housing. Due to enormous costs to cover income losses… erosion of prosperity, rise of poverty, loss of peace, rise of violence are looming… e-ve-ry-where.
Hence, this Diet-time is a very precious time to become conscious, awaken, focus on what we truly want and wish to live like and create on Earth for the Future, liberated from the shackles of being constantly whipped to a craze of apps and BS, or shuttled to all kinds of classes, courses and "socializing" and pleasing acquaintances that aren't friends.
USE THIS TIME TO THE MAX to not fall into a hole of despair but to trust and activate your creative powers, and ascend into the Bright New World of people-powered solutions for a GOOD world for all.
Corona Academy offers a collection of home- and online based activities to protect the people and planet we love – together with badass changemakers and genius visionaries.
And : to develop advanced skills to make extra bonus impact once we are free and unleashed to move boundlessly in the world.
What an exciting time, and what an intriguing real-life "gaming map" to play, in 5D resolution!
Embrace this time for your Inner Coronation as Changemaker, and your ascension to reclaim your birthright – a life of peace, bliss and abundance – to restore Harmony on Earth – so we can at last walk again as Princesses and Princes in the Queendom of Nature that for too long was devastated by sickshit assholes.
No more Denial. Truth is #1. Say it like it is.
Gain a special official YL Badge and YL Warrior Shirt available in this special time period only + score your ACTIVATED Coronation Photo in our planetary Hall Of Fame. Awww, time to go epic!
Get rollin' … we'll meet you LIVE online!
This is not only about you.
You learn to purify this beautiful Planet 
from un-necessary suffering.
So think big, beyond this short time
begin to shape your next 70 years on Earth
by your tender, loving Heart's dream
RE-UNIFY WITH NATURE
RE-DISCOVER LOTHLORIEN | PATRONUS ANIMALS, PLANTS & MORE 
SHARE YOUR ACTIVITIES
GET PUBLISHED > MAGAZINE > YOUTUBE
CO-CREATE YL MAGAZINE
AS WRITER, ARTIST, LAYOUTER, SOCIAL MEDIA
ACTIVATE SCHOOL
THE GLOBAL SDG SCHOOL CHALLENGE
ACTIVATE THE CITY
LEARN MASTER MAGIC + STRATEGY
MEANWHILE
millions of people that live in abominably poor conditions, who have left their villages to do low paid quasi slave work in cities, even other countries, living hand-in-mouth or sending little money back home to their rural families … are suffering badly, are dying and abused by bad police.
toggle: (pics from XYZ used for educational purposed to do good)
now kicked out, banned, stranded in the streets, no income, no food, are walking or bussing 1,000s of kilometers to escape to their home villages to not die from hunger … on their x-week journeys, it is illegal (!!!) for them to buy food or water (!!!) – people reject them like dangerous pest-ridden monsters.
HELP Y/OUR FRIENDS
care for their people, and see them report back quickly on social media,
so that you see how your effort directly makes a real-life difference for real people that have NO other support.
There are not sufficient resources available from the state or organizations. 
Your Title Goes Here
Your content goes here. Edit or remove this text inline or in the module Content settings. 
Maggie
helps with urgent water rations in Nepal.
Your Title Goes Here
Your content goes here. Edit or remove this text inline or in the module Content settings. 
 The Red Brigade
rocks strong in Northern India's cities of Lucknow and Varanasi to protect the most vulnerable families in local poor communities… it's almost a slum, there is zero state resources help available, and the turf is tough. That is why they exist. they are hard-boiled, big-hearted, and they SUCCEED at all levels.
They call for our help. We can help them reach big milestones, fast. Let's do this, each experience our powers, celebrate our achievements live via video and plan what's next.
At School / Work
There's more, exciting things when the emergency is done. The Red Brigade have solid, big aims, and together, you, youth, schools and adult allies have the power to make these dreams come true and shape the future of their entire region for millions of people. #1 a self-defense academy that also serves as home, office, rescue and de-traumatization centre, small business centre, youth leadership LearnSpace, woven into the greater community of schools and street life. #2 youth-led tourism for tours and workshops with ho(s)tel guests. #3 organic & plant-colored fair trade fashion in partnership with sevengardens (UNESCO), Kalima Design, student clubs and boutiques.
These texts into a slider on top. (also on BoostClub! parocks ge – can each of us unlock $50? That's 2 families for 1 full month saved from famine + their kids living at peace + a balm for the Red Brigade's hearts + strengthening their position in city and state + builds bonds for more in the future) They have trained 30,000+ girls in self-defense against sexual violence. They are  fearless and determined to defend the lives of their communities. In this poor place, the state cannot finance the most vulnerable. Ajay's and the crews' families do okay. They volunteer 100% to turn every cent into goods for families they detected are in grave emergency. Ananya, 11, tirelessly sews reusable masks. The Red Brigade has gained state permission to package and distribute food, oil, soap, water and masks. Orange Café, run by acid attack survivors, serves as headquarter kitchen and delivery station. In France, their allies of Krav Maga self-defense trainers have raised $2,500€. Their work reaches many, but the need is far bigger, It's $5€ for 1 family for 1 week. This means that every small donation makes a REAL difference for the real lives of real people and their children to live this horrible time caged in at home in basic inner peace. The Red Brigade takes 0 cent for themselves. The only "loss" of a donation is the small transfer fee via paypal. Who cares, no time to lose. 
This is a case for Philanthro-Parties
Put the FUN into FUNdraising with a dose of adventure and magic to boost donations, fun, reach and impact. We learn from LemonAID Warriors and Lulu's book!
YOU CAN
RAISE $1,000€
for sure.
How proud and surprised will you be? How many people will be awakened? How will this serve you realize your dreams for your favorite causes?
At School / Work
Teachers, peers and collagues definitely sympathize with this cause, the vibrant story and crisp and clear opportunity.
At school it is a perfect case for SDGs, youth leadership, active citizenship, life skills, public speaking, meaningful media use, solidary and development in action.
Imagine a common middle + high school age 12-18, grade 7 to 12 :
What if just 10% of students
3 in a class of 30
333 at a school of 1,000
decide to activate their families to farm, hunt, unlock, contribute $50€ to #bemoreawesome
That's 1,000+ activated people. Easy.
333 x 50 = how much? Do the math. Make sure to get the 0s right, since this is big bucks, fast!
– – – 
If just 3 schools get activated, the Red Brigade's major pandemic milestone for their community is reached. 
Such is the power of youth at school, in numbers!
– – – 
When another 4 schools rock this, the Academy is financed!
what an amazing opportunity to activate spirits and momentum for people to jump and forever surf the wave of motivation! 
Will you wield your powers?
– – –
Got questions?
We are here to help!
WE WANT YOUR COMMITMENT TO OPEN YOU DOORS IN LIFE
Get high value certification of your accomplishments. This is for real.

GAIN BADGES
for completed missions
for fun, epic, ranking + your CV

GAIN CERTIFICATES
issued by ace institutions in leadership, Sustainable _Development Goals (SDG), Education for Sustainable Development (ESD) with UNESCO and UNITED NATIONS University status
CORONATION ACADEMY is sourced from #bemoreawesome – the epic training program for young changemakers
Step into your power and lead a life of adventure with our full scope of actions
CORONATION ACADEMY is sourced from #bemoreawesome – the epic training program for young changemakers